Europe for Freedom - Who is WHO?
Rally against the planned changes to the international health regulations and the WHO pandemic treaty. Be there! Many national and international speakers are waiting for you! 01.10.2023 at 11:30 the rally starts at Heldenplatz, then subsequent ring round and final rally with musicians, again at Heldenplatz.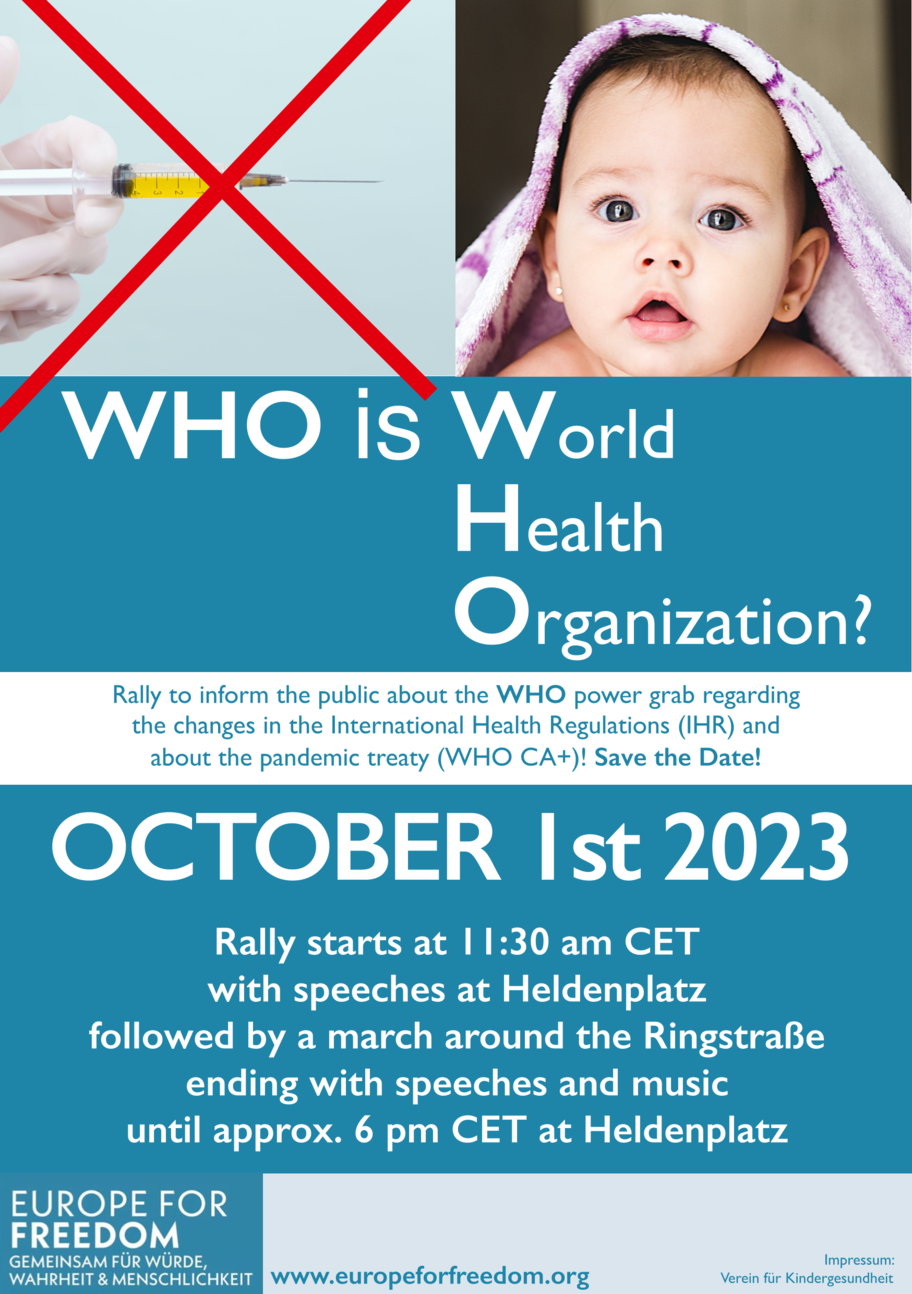 EUROPE! WE ALL ARE!
On October 1, 2023 in Vienna we stand up TOGETHER against the plans of the WHO. For our FREEDOM, for our SOVEREIGNTY, for our SOCIETY.
Let us be heroes on the Heldenplatz to stand up for our freedom, sovereignty and physical integrity of ourselves and our children.
Many citizens of the human family from many countries will listen to the speeches of lawyers who are proven experts on the subject of W.H.O. on this day. Furthermore, independent journalists will point out the dangers of the W.H.O.'s "infodemic" approach to freedom of speech and freedom of the press, while the W.H.O. grants itself a monopoly on the truth, while this organization and its supporting partners themselves enjoy immunity, no matter what information comes from them. Medical experts will explain the dangers of the intrusion of unelected global entities into the patient-doctor relationship. Other speakers, such as a physicist with a doctorate in physics, will discuss the "One Health" approach with regard to possible climate lockdowns and other dangers.
After the speeches on the main stage at Heldenplatz, there will still be speakers from the independent media present during the ring march, who will speak from the loading area of the huge "#FREEAssange truck".
Another large truck at the head of the demo procession will also still provide a stage for many national and international speakers during the march around the ring.
After arriving at Heldenplatz, there will be a final rally with musicians such as Peter Conway from Great Britain.
Europe for Freedom stands for a self-determined, tolerant, open, livable and lovable Europe! We want to stand up for this together, on October 1, 2023 in Vienna.